Recently I was able to conduct an interview with Chad Johnson, the VERY talented WR from Oregon State. In our converstations, Chad has demonstrated the desire to play and make an impact early in his rookie season. He's a very confident and gifted young man. Below is some info on Chad, followed by our interview.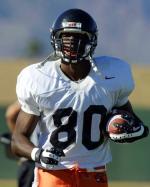 Name: Chad Johnson

School: Oregon State

Position: WR

Height: 6'2"

Weight: 196

40 Time: 4.33

Draft Status: Mid First Rounder, but has ability to be a top 5 pick.

My View: Chad is a very gifted receiver. He possesses great hands, great speed, and he understands his role well. A very quiet, yet confident individual with the mind set to succeed in everything he does. I'm sure he'll make his name known early and often next season.


INTERVIEW:


Q: What kind of person will an NFL team get by drafting you?

C.J.: They'll get an exciting, BIG PLAY maker with a desire to learn everyday. I'm very quiet and humble off the field. I spend alot of my free time working out or just watching T.V.

Q: What are your plans after football is over?

C.J.: To be honest Matt, I haven't even thought about it yet. I've been waiting for this time to come for a long time and now that it's here, I only want to think of it. I plan on being in the NFL for a years to come, so when I near that point where retirement is around the corner, I'll see what my options are then.

Q: What have you heard about your draft status?

C.J.: Well, before I went to Mobile I was hearing late first round or second round, but now I'm hearing I may become a top 10 pick if everything goes well. I think I'll be a top 10 pick in April though.

Q: What are your three playing strengths?

C.J.: I can only list three(laugh). I'd have to say my route running, my speed, and my hands.

Q: Are there any areas of your game that need improvement?

C.J.: I think all areas need improvement. There's always room to grow. I think I'm solid in every areas, but I can learn from the vets in the league.

Q: Who do you credit for your development as a player and a person?

C.J.: As a player, I'd have to say my trainer, Charles Collins. He's really helped me along the way to the NFL and I owe him alot of credit. As a person, it would be my Grandmother. She's been there for me my entire life and I love her. She's my heart.

Q: Do you feel you're mentally and physically ready for the NFL style of play?

C.J.: No doubt! I've been ready physically. Mentally, it will be a learning process, but I feel I'll do very well.

Q: Do you think you're the best WR in this draft?

C.J.: Yes I do. I think all the receivers are good in their own rights, but I bring everything to the table. When I go to the combine, I know I'll be the fastest guy there. I still think people are doubting me, but I'll blow everyone away in Indy.

Q: What are your goals for the combine?

C.J.: I want to run a 4.2/40. A 4.3 is automatic. I know I can get in the 4.2 range because I've done it before and my trainer has helped me work out all the kinks and I'm ready to roll.

Q: What has the past year been like for you?

C.J.: It's been really wild. When I went to Oregon State, I knew they needed me to make BIG PLAYS and I did. Not many people knew about me until Mel Kiper wrote a piece on me for ESPN. Then in the Fiesta Bowl, I had a real good game and we beat Notre Dame. Oregon State is not known for football, but I think we helped bring some swagger to Corvallis. It feels really good to know I had a role in that. This past year has really been a dream. I'll be in the NFL in 2 months! It's crazy!

Q: Did you go to the Senior Bowl looking to show the scouts you're the best WR and not Terrell or Robinson?

C.J.: Not really. It was more like a job interview. I know I'm better than the rest, I just needed to do my thing. Everything will fall into place in April.

M.G.: Chad, great talking with you! I wish you well and I'll talk with you soon.

C.J.: Hey Matt, it was fun man. Thanks alot. Maybe I'll be in a Saints uniform and we can hang out.

M.G.: I sure hope you're a Saint!

C.J.: Thanks again Matt. Talk to you soon.