Recently I was able to conduct an interview with Penn St. cornerback, Bhawoh Jue. Bhawoh is a very solid CB prospect who has only had one full season starting. He's elevated his draft status more than any CB in the country. Before the 2000 season began, Bhawoh was considered a late round selection, now, just 2 months away from the draft, he may be a first round pick. Below is some info on Bhawoh, followed by our interview.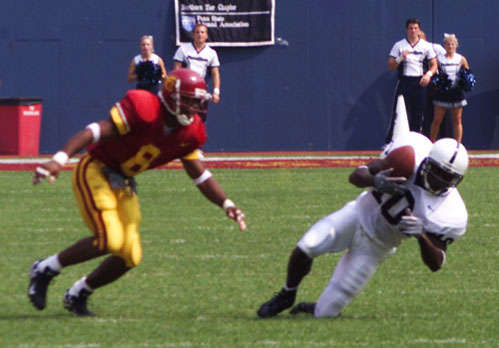 Name: Bhawoh Jue

School: Penn State

Position: CB

Height: 6'0"

Weight: 195

40 Time: 4.48

Draft Status: Late first round/early second round pick

My View: With Bhawoh's size/speed combination, he's got all the tools to succeed at the next level. He's only started one season at CB and already he's made huge strides. He's got excellent technique, smooth hips, good closing speed, and he adjusts well to the ball. He's a got a tremendous amount of UPSIDE potential and I think he's going to be an impact player.


INTERVIEW:


Q: What kind of person will an NFL team get when they draft you?

B.J.: They'll get an extremely hard worker who always does what's best for the team. I hate to let my teammates down. As far as off the field, I stay to myself so I won't get into any trouble.

Q: What have you heard about your draft status?

B.J.: I've heard anything from late first round to mid second round. I don't really care where I'm drafted though. I just want to play ball.

Q: What are your plans after your football career is over?

B.J.: I plan on saving my money from the NFL and putting it to good use. I know I don't want to work for anybody so I'll probably open a family restaurant or try and go into the music industry with my friends.

Q: What are your three playing strengths?

B.J.: I'd have to say my cover skills, my tackling, and my football intelligence.

Q: Any weaknesses in your game that you'd like to improve on?

B.J.: Well, I have only started at CB for one season, so I need to polish on my overall technique, but I think I'll do just fine. I'm always looking to improve my game so I can excell at my position.

Q: Do you feel you're mentally and physically ready for the NFL style of play?

B.J.: Physically I think I'm all ready to go, but mentally is something I'll need to adjust to. The college game and professional game are two different things. I pick up things pretty quickly so I think I'll be able to learn alot from the veterans on the team.

Q: What are you doing to prepare yourself for the changes that will be upon you in 2 months?

B.J.: Well, I'm aware that my life will change alot, but I have a lot to keep me focused on what I'm doing. I graduate this semester, so my mind is on school right now. I don't even think I'll be watching the draft. I'll probably go workout or go to the movies with my girlfriend.

Q: Do you think you're being overlooked by scouts at all?

B.J.: A little. Nobody knew who I was a couple months ago. I wasn't even on the map yet. I played myself into the position I'm in now. It feels good. They'll see me later this month at the combine and I'll prove to them I'm worthy of being here. Hopefully I'll be one of the first 3 or 4 corners to be drafted.

Q: How do you feel you stack up against other corners in the Big Ten?

B.J.: I know that Willie, Jamar, and Nate are rated above me, but to be honest I think Willie and myself will distance ourselves from the others. If you watch film on me, I shut down Terrell(2 catches) and I shut down Ron Johnson(0 catches in first half) until I got hurt in the second half. I think I rank better than they do in head-to-head competition.

Q: Do you think you can be an impact player in your rookie season?

B.J.: If I'm thrown into the fire, I feel I'll hold my own. If I'm asked to play Special Teams and be a nickel back, I can do that too. Either way, I feel I'll do well. I just want to get there and stay there. Nobody will remember how I got there, they'll remember what I did when I was there.