Recently I was able to conduct an interview with LSU's standout OT prospect, Brandon Winey. Winey, a 6'6", 301-pound RT, projects as a late 1st/early 2nd round pick in next month's NFL Draft. He's a very easy going, smart, funny young man who was a blast to speak with. He's sure to be a welcomed addition to whatever team he goes to. Below is some info on Brandon, followed by our interview.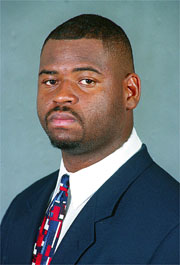 Name: Brandon Winey

School: Louisiana State

Position: RT

Height: 6'6"

Weight: 301

40 Time: 5.18

Draft Status: late 1st/early 2nd round projection

My View: WOW! What a great guy to speak to! He's funny, charasmatic, intelligent, and an exceptional athlete. Surely, one of the best conversations I have ever had with a football player. Brandon possesses the natural ability that teams love to see in an offensive lineman. He's got a tremendous amount of upside potential and may even be used as a guard at the next level. This guy has the potential to become a perenial Pro Bowler if everything falls into place.


INTERVIEW:

Q: What kind of person will an NFL team be getting when they draft you?

B.W.: They'll be getting a very smart, hard working individual who does everything at 110% all the time. I'm a winner. I do anything and everything to help the team win ball games.

Q: What have you heard about your current draft status?

B.W.: Well, when I was at the combine the teams that showed the most interest were San Francisco, San Diego, Jacksonville, Miami, St. Louis, Carolina, and Baltimore. They all told me that if I happened to be there when they pick, that I'd be a serious posibility. I'm guessing my draft status is anywhere from a mid 1st to a late 1st rounder.

Q: What are your plans after your NFL career is over?

B.W.: Man, I'm gonna open up a fast food restaurant and write a book on my life on the bayou(laughing). Seriously though, I think I'll work with the kids. I've always loved that. I know I'll either live in Texas or Florida because there's no state income taxes there. I'm all about saving my money man(laughing).

Q: What are you doing to mentally prepare yourself for the NFL?

B.W.: Well, I'm just staying focused now and worrying about what I need to do prior to the draft. I don't think you can prepare yourself mentally for what's going to happen because you don't know until you get there. Once I'm there, I'll be fine. I know how to keep a level head and I'll take everything in and prepare that way.

Q: What about physically?

B.W.: I'm just working out alot and making sure my hand is 100% by Pro Day. I just recently worked out with Kyle Turley of the Saints and he taught me alot about technique and what I can do to be a solid NFL RT. I figured Kyle's one of the best RT in the NFL, so he's a great guy to learn from.

Q: You just mentioned your hand. How is that coming along? Is it healed yet?

B.W.: I still have the cast on it as a precautionary measure. The reason it's taken so long to heal is because the bone that was broken is one that doesn't get much blood flow at all. I wear a bone stimulator 10 hours a day to make sure it'll be healed. I expect to be at 100% in about a week or so.

Q: What do you feel are your three playing strengths?

B.W.: I'd have to say my run blocking, my pass blocking, and my ability to pull when needed.

Q: What about weaknesses in your game?

B.W.: What weaknesses(laughing)? I feel I can improve on maintaining a low pad level on my run blocking. Sometimes I have a tendancy to get a little high.

Q: With all the money that'll be headed your way in afew months, what are you doing to prepare for that?

B.W.: It won't change me at all. I came from a good background. My mother and father were both teachers for over 30 years and we were a middle class family. I know I need to stay humble and keep in mind that the Lord blessed me with talent and that without him, I wouldn't be where I am.

Q: Are any teams looking at you to play guard?

B.W.: Washington asked me if I could play guard and I told them "Yes I can. I can play anywhere on the offensive line."

Q: When is LSU's Pro Day? There's been some confusion as to when the next one would be scheduled.

B.W.: From what I understand our Pro Day is on the 29th of March.

Q: What are your goals for Pro Day?

B.W.: I just want to put on a show. With my hand scheduled to be at 100% by then, I should be able to participate in everything. I'll be OK.

Q: What are your goals for your rookie season?

B.W.: I'd like to be able to come in and start immediately, but my goal is to participate in 55%-75% of the offensive plays.

Q: What did Coach Saban bring to the LSU program that Coach DiNardo lacked his last two seasons?

B.W.: Coach Saban got our heads right mentally. We always had talent at LSU, we just were lost mentally. He brought in an attitude and a swagger that everyone on the team fed off of. It was good for me because we finished on a winning note.

Q: What is your greatest football moment?

B.W.: It was the 2000 Peach Bowl against Georgia Tech. We were losing 14-3 and I wasn't even dressed out because of my injury. I told Coach Saban to get me in and he didn't really say anything, but Fred Booker(CB) told him that I really wanted to play so he said "Go suit up." When Rohan(Davey, QB) and myself entered the game, we scored 25 unanswered points and won 28-14. I owe it all to Fred.

M.G.: Brandon, it's been a pleasure talking with you and I hope you have a successful NFL career. I'll be in touch.

B.W.: Thanks Matt! I look forward to doing it again.