Recently I was able to conduct a phone interview with Texas A&M's Ron Edwards. Ron has started 37 consecutive games at NG in A&M's 3-4 scheme. He's the focal point of their "Wrecking Crew" defense and is sure to be a highly sought after prospect in April. Below is some info on Ron, followed by the interview.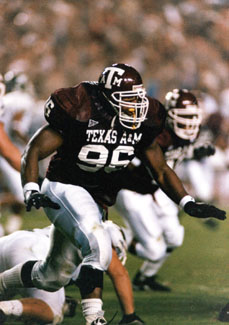 Name: Ron Edwards

School: Texas A&M

Position: DT(projects as a DE in the NFL)

Height: 6'3"

Weight: 283

40 Time: 4.73

Draft Status: 3rd round projection, but has the ability and work ethic to be a VERY high 2nd rounder, maybe slide into Round one.

My View: Very solid DE prospect. Played NG at A&M, but will make the transition to DE at the next level. Very intelligent, confident young man with a tremendous amount of UPSIDE potential. His speed will make him an impact player IMMEDIATELY in the NFL. Very impressive football player and person.


INTERVIEW:

Q: Ron, what was your experience at A&M like?

R.E.: It was the best time of my life. The coaches and fans are the best in the country.

Q: I hate to bring up something negative, but what was the feeling of the Aggie team before last year's Texas game?

R.E.: Well, it was a really hard time for all of us. We went into that game very emotionally charged and ready to go. It's a family at A&M and we were going all out to win that game.

Q: What are your responsibilities at your NG position?

R.E.: My job is to hold the line so our LB's can make the plays. I need to make sure that I do my job on every play. The defense starts with my play at NG.

Q: Rank your three playing strengths.

R.E.: First I'd have to say my explosiveness is my best assett. Next would be my strength. Third, I have good speed for my position.

Q: Rank your three playing weaknesses.

R.E.: Well, I don't think I have three weaknesses. I'm a solid all-around player but if I had to choose a weakness it would be my playing weight. I'm a 285 lb NG in a 3-4 defense.

Q: Do you think you have good flexibility for your size?

R.E.: No doubt. I've been in Martial Arts since I was a young boy. In fact, I can do a split. I have a red belt in Tae Kwando. I don't think flexibilty is a problem for me.

Q: What have you heard about your draft status?

R.E.: I've heard anywhere from 2nd round to 5th round.

Q: What is the whole draft process been like so far?

R.E.: Well, to me it's just like being recruited from high school. I get tons of phone calls everyday, meeting with potential agents and also talking with NFL scouts. It's really hectic, but I've enjoyed alot.

Q: What's it like tackling Ja'Mar Toombs in practice?

R.E.: Man, it's rough. When you see him coming at you at full speed all you can do is pray. I feel bad for our opponents.

Q: Have any other scouts told you that you may end up at DE in the NFL?

R.E.: Yes they have. I don't really care what poaition I play as long as I get the opportunity to contribute.

Matt: Thanks for your time Ron. Good luck in the NFL!!!

R.E.: Thanks Matt. It's been fun.