Recently I was able to conduct a phone interview with Miami's phenomenal OT Bryant McKinnie. McKinnie was a 1st Team All-American and a 1st Team All-Big East selection in 2000. He's considered by most to be a top 5 pick already for the 2002 NFL Draft. In my opinion, he'll be the next great OT of the NFL. Below is some info on Bryant, followed by our interview.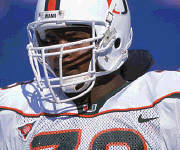 Name: Bryant McKinnie

School: Miami(Fl)

Position: OT

Height: 6'9"

Weight: 335

40 Time: 5.1

Draft Status: A sure top 5 pick in 2002. Could be the Texan's first ever draft choice. An unbelievable talent.

My View: Bryant is a very intelligent, genuine, and gifted young man. He's the most dominating Offensive Lineman since Jonathan Ogden. He's got unlimited potential and he's sure to be one of the best the game of football has ever seen. He was a pleasure to speak with and I look forward to us chatting again soon. A class act!


INTERVIEW:

Q: What kind of person will an NFL team get when they draft you in 2002?

B.M.: Whoever drafts me will get a very dedicated, hardworking and reliable individual.

Q: What are your plans after your football career is over?

B.M.: I think I may go back and teach. I'm a sociology major, so I may want to become a social worker.

Q: What are your three playing strengths?

B.M.: I'd have to say my height is one. I have advantages in leverage. Another strength is my long arms. I'm able to reach and keep the rusher at bay. Last, I'd say my footwork. I have a quick first step. I move really well laterally too.

Q: Do you have any weaknesses in your game that you'd like to improve on?

B.M.: I'd like to improve on staying low in my run blocking. There's always room to get better in everything, but I think that's the one thing I need to work on.

Q: I find it amazing that you're only in your 5th season of organized football. How good do you think you can be?

B.M.: If I can keep the will to learn and get better, I can become one of the best. I'm always driven to learn more about the game. I think I can do anything I put my mind to.

Q: Did you have a hard time containing Jamal Reynolds?

B.M.: Not really. He's a really good player, but I watched film so I knew what to expect. I asked a teammate if he could give me some pointers on blocking him and they worked.

Q: When you were in high school banging on the bass drum, did a career in the NFL ever cross your mind?

B.M.: Not really. I was playing basketball in high school. I didn't go out for football until my parents and coaches told me I should try it out.

Q: With all of the attention your play has gotten you, how do you stay level and focused?

B.M.: To me, I still need to improve. That alone keeps me focused. With Coach Davis leaving, that will make me stay focused and make me want to get better. I don't listen to the media or read the newspapers because I don't really care what they say about me. I know my job, and I do it.

Q: Have you given any thought to the fact that you could be the #1 overall pick in the 2002 Draft?

B.M.: Not really. I've really never thought of it at all. I know Orlando Pace was the first pick a few years ago, but I haven't thought about me being #1.

Q: What are your goals for the 2001 season?

B.M.: I want to dominate. I want to be the best at my position. I also want to get the respect from the coaches around the country. I want them to know that I'm not 6'9", 335 for no reason. I'm a real football player.

Q: Do you feel you guys were cheated out of a National Championship shot this past season?

B.M.: Somewhat, I thought the BCS was made to prevent a situation like that. We'll move on and get over it, but I think we should have played in that game. We beat FSU. The computers made the decision on who played.

Q: Will revenge play a role in your game against Washington next season?

B.M.: Yes it will. Last year it was Ken's first big game. We were down big and we made it very close at the end. I think if we had more time we would have won. We'll get them in our home this year.

Q: What is your greatest football moment?

B.M.: After our win against Florida State last year when I found out that our O-Line didn't give up any sacks. That was a very gratifying accomplishment for us.

Q: What are your feelings now that Coach Davis is gone? Are you upset? Bitter?

B.M.: I'm a little upset. I think he's doing what's best for him and his family, but he used to tell us about how bad selfishness is. I don't know. I'm still in shock. It'll hit us in the spring when he's not out on the field with us.

Q: Are you happy Coach Coker is the interim Head Coach? Do you think Coach Davis will try and lure him to Cleveland?

B.M.: Yes, I am VERY happy. I don't want anything to change. I'm all for Coach Coker. He's a great guy. I don't know if Coach Davis will try and get him, but I guess it's possible.