Recently I was able to conduct an interview with Miami(Oh) DT, Andy Aracri. Andy is best known for his non-stop motor and his consistent play. Since walking on in 1996, Andy has proven to be a very solid player. He was an All-MAC selection in '99 and is considered to be a guy that will surprise in an NFL camp. Below is some info on Andy, followed by our interview.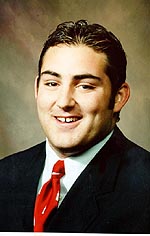 Name: Andy Aracri

School: Miami(Oh)

Position: DT

Height: 6'1"

Weight: 285

40 Time: 4.95

Draft Status: 7th Round pick, possible undrafted FA.

My View: Andy is a hard nosed, hard working, driven young man who will do anything and everything to succeed at the next level. He may be one of the steals in the 2001 NFL Draft. One of the best motors in college football. Never stops or gives up on any play. Consistent.


INTERVIEW:


Q: What kind of person will an NFL team get by drafting you?

A.A.: That team will be getting a defensive tackle that prides himself on being a physical presence on the interior line. I am a very intelligent, hard nosed, & a tough S.O.B! I have a great drive and desire to excel in this game of football. I believe that to be a great player one has to do be willing to put in the hours of film study & self preparation before ever stepping on to the field of play.

Q: What have you heard about your current draft status?

A.A.: My draft status is something that I can not concern myself with at this particular time. I must focus on the things that I can control. My focal points right now are preparing myself both physically & mentally for the upcoming workouts preceding April's draft.

Q: Rank your three playing strengths.

A.A.: Without question, my three strengths one the field are:
1)My "football motor" never stops
2)My explosiveness & speed off the line
3)The use of my hands as a DT

Q: Are there any weaknesses in your game that you'd like to improve on? Explain.

A.A.: I would say that I am always in pursuit of finding new moves to use on the field. Every defensive lineman feels that he can improve on his pass rushing skills. I know that in college that it can be easy to settle down with one reliable move, but in the NFL you are competing with the best O-Lineman in the world. To be a dominate DT & pass rusher in the NFL you must have great feet, so that is an area that I am always working to improve!

Q: Do you feel that you've been overlooked because you play in the MAC?

A.A.: Not really, over the past few years the MAC as produced some great football players who went on to have solid careers in the NFL and that has definitely helped with our exposure. I believe, and am confident that once I get into camp my ability & production on the field will put aside any doubts or concerns one could have of my playing career in the MAC.

Q: Do you think you're ready both mentally and physically for the NFL style of play? Explain your answer please.

A.A.: Yes, I do feel prepared, but I also understand that there is still a lot to be learned before great success can reached in the NFL. Physically it is a matter of time & effort one puts I during the off season. You must always be working on your strength and mobility no matter how long you have been in the league. Mentally is really the tough part. A player needs to understand that to have success in the NFL you must have the knowledge of what it takes. Dedication is what separates the great ones from everybody else. You can't just go into a NFL camp relying & hoping that your past accomplishments will get you through.

Q: Who do you credit for your development as both a player and a person?

A.A.: Without question the people I credit for my development as a person is my parents, especially my mother. She has made me into everything I am today. From day one my mom has been teaching me what it takes to be a great person and not just a good football player. I credit my hard work ethic to her because I saw all the things she did for me while I was growing up. As a player there has been many people who have contributed throughout the years. The one person who I believe took my game to a new level is my defensive line coach of the past two seasons, Jon Wauford. Coach "Wauf" taught me the things it took to be an ALL MAC player. His leadership & knowledge comes through clearly on the field. He knows the game of defensive line better than anyone I have ever come into contact with.

Q: What are your plans after your football career is over?

A.A.: My degree is in education, so when football is finally over I plan to enroll in graduate school and get my Master's degree. While I am doing that I also plan on being a graduate assistant for a football program. From there I will have some good options for my future. I will either get into coaching at the college level or go back and be a teacher & coach at the high school level.

Q: Is there any particular team you'd like to play for in the NFL?

A.A.: The team I would most like to play for is the team that will give me a fair shot during training camp. I believe that once I get on the field I will prove that I belong in the NFL.

M.G.: Andy, it's been a pleasure interviewing you. I wish you all the best in your future. Thanks for your time. Good Luck!

A.A.: Thanks Matt! I appreciate the time & effort you took for this interview. This is a great web site - Talk to you soon & take care.