Recently I was able to conduct an interview with Bobby Newcombe, the do-it-all WR from Nebraska. Bobby is quickly becoming one of the most sought after receivers in the 2001 draft. Bobby is one of the best all-around athletes in this draft. He can play a vital role in the return game and he can be a threat as a receiver. He will immediately bring "homerun" capabilities from the moment he is selected. Below is some info on Bobby, followed by our interview.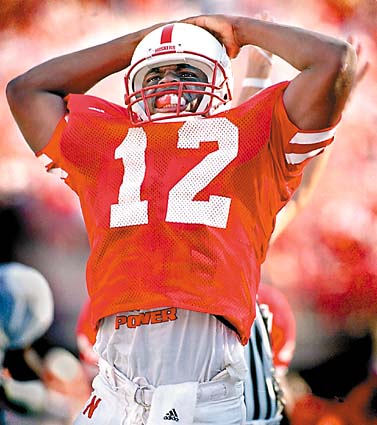 Name: Bobby Newcombe

School: Nebraska

Position: WR/Return Specialist

Height: 5'11"

Weight: 193

40 Time: 4.35

Draft Status: 2nd-3rd round projection. With good workouts he could possibly sneak into the later stages of round one.

My View: A very solid WR prospect. Made plenty of scouts heads turn while in Mobile where Bobby displayed great hands, route running, and overall athletecism. He adjusts very well to the ball and he's got good body control. He's also one of the nicest, genuine people you will ever meet in your life. Just a great guy.


INTERVIEW:


Q: What kind of person will an NFL team be getting when they draft you?

B.N.: They'll get a hard worker, an athlete, a guy who puts 100% into everything, a winner, a guy who prepares extremely well, and a finisher.

Q: What have you heard about your draft status?

B.N.: My agent told me he's heard anywhere from the second round to the fourth round.

Q: What are your plans after your playing career is over?

B.N.: I know I want to be involved in football in some capacity. This is a game I love. Maybe I'll be a scout.

Q: Do you feel you're mentally and physically prepared for the NFL style of play?

B.N.: I feel my style of play is NFL material now. I prepare better than anyone I know and I take full advantage of it on gameday. Mentally, I'll just sit back and watch how the veterans go about things and basicaly learn from them.

Q: Is there a particular NFL team you'd like to play for?

B.N.: Not really. I just want to go to a team where I can fit in well. I want to be able to contribute immediately, whether it's on special teams, receiving or both. I just want to get on the field and make plays.

Q: What are your three playing strengths?

B.N.: I have very quick feet. I've got good agility and side to side movement and I have really good speed with a nice stride length.

Q: Are there any weaknesses in your game that you feel you need to improve on?

B.N.: I think I could really benefit from a pro style offense. I didn't really get to showcase my skills at Nebraska because of the offense we run here. I think once I get to the NFL and I'm taught by an NFL Offensive Coordiantor and a professional receiving coach I'll be just fine.

Q: What are you doing to prepare yourself for the NFL?

B.N.: I'm just working our really hard and keeping everything in focus. Psychologically is the hard thing. I'm getting married soon, then we have to move to a new city, and I'll need to get used to playing a much faster game. I'll just learn from the vets and let everything fall into place.

Q: Do you feel you've been overlooked by NFL scouts?

B.N.: There's no doubt I've been overlooked. I didn't get the chance to show them too much in college because of Nebraska's offense. I think when they saw me in Mobile, they realized I had ability.

Q: What are your goals for the Combine?

B.N.: I really want to beat my personal records. I know if I do that, I'll have better numbers than alot of guys at my position.

Q: What was the Senior Bowl like for you?

B.N." It was really great. It gave me the chance to really let loose as far as playing football is concerned. It also gave me the opportunity to learn from NFL coaches which was really beneficial to me.

Q: Were there alot of teams that showed interest in you while you were there?

B.N.: Yes, there were about 19 different teams who spoke to me so I had a really good time.

Q: Do you feel you can be an impact player in your rookie season?

B.N.: I think I can be an imapct player immediately. I'm very excited about my opportunity to play in the NFL. I'll do whatever's asked of me and I'll produce. I've been held back too long. I'm ready to BLOW UP!

M.G.: Bobby, it was a pleasure getting to talk to you. I wish you all the luck in the world and I hope to speak to you soon.

B.N.: Thanks Matt. I look forward to it too.