Recently I was able to conduct an interview with Miami's TE, Jeremy Shockey. Jeremy is entering is Junior season in 2001 and already he's a top TE prospect for the 2002 NFL Draft. He possesses great size and speed for a TE and he's sure to be an All-American candidate in 2001. Below is some info on Jeremy, followed by our interview.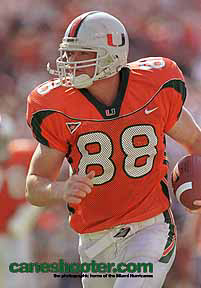 Name: Jeremy Shockey

School: Miami(Fl)

Position: TE

Height: 6'6"

Weight: 237

40 Time: 4.55

Draft Status: Only entering his Junior season, but should he declare early, he'll more than likely be one of the first two TE's to get selected.

My View: Jeremy is a very big, athletic target for the Canes offense. He became more of an intricate part of the offense as the season went on and now he's primed to be an All-American. He's got great physical tools. He's got great hands, good speed, excellent body control and he adjusts well to the ball. A very solid looking NFL prospect for 2002.



INTERVIEW:

Q: What kind of person are you off the field?

J.S.: I think I'm a real good person off the field. I've got good charcter traits, I go to Church often, an I do community service. I think I'm a really good role model.

Q: What are your plans after your football career is over?

J.S.: Hopefully I'll own my own business. That would be something I'd really like to do one day.

Q: What are your three playing strengths?

J.S.: My thre playing strengths are:
1. My route running. I run really good crisp routes.
2. My speed. I've got pretty good speed for a guy at my position.
3. My first step. I feel I'm very quick getting off the ball and that helps me beat the defender.

Q: Are there any weakenesses in your game that you'd like to improve on?

J.S.: Actually, I feel I'm a solid all-around TE, but if I need to improve on something it would have to be staying low on my run blocks. I'm working on that with my TE coach and that will be fixed by the start of next season.

Q: What are your goals for the 2001 season?

J.S.: The goals I have are really team oriented. I want to win the Big East first and then win a National Championship. Personally, I really want to catch about 40 balls and have over 500 yards receiving.

Q: If the Canes have another great season and you achieve all your personal goals, will you consider entering the draft?

J.S.: I'll only consider it if I know I'll be a first round selection. I don't want to leave and be drafted in like the 3rd round. When that time comes, I'll look at all my options.

Q: What are your feelings about Coach Davis leaving for Cleveland?

J.S.: I'm doing fine. I'd like to see him still be here, but he had to do what was best for him and his family. He promised us after the Sugar Bowl he was going to stay, but I guess Cleveland was too good to pass up. I look at it like this though; Coach Davis doesn't play on Saturday's, we do. We need to continue to go about our business and win games.

Q: Do you feel the team will respond in a positive way?

J.S.: Yes I do. We're taking it really well. We know what we have to do. I think things are going just as smoothly as they did when he was here. If we make mistakes next season, I'm sure some people will try and use it as an excuse, but as far as I'm concerned, I think everything will keep rolling along like it was before.

Q: You're already considered a top TE prospect for the 2002 Draft. How will you stay focused next season?

J.S.: I don't really pay attention to all that. It's just hype. I know I need to go out and perform, but I don't care what anyone is really saying about me.

Q: What are some things you like to do other than play football?

J.S.: I like to watch movies, listen to music, hang with my friends, got to the beach, fish, really I like to do anything fun.

M.G.: Jeremy, thanks for your time. I can't wait for us to do it again. Good Luck!

J.S.: Thanks Matt. I appreciate it. Talk to you soon.