Recently I conducted an interview with Jashon Sykes, the enormously talented LB from Colorado. Jashon will be entering his senior season in Boulder and he's looking to have another All-American season. He's sure to be a Butkus candidate and he's already thought of as being the best LB prospect for the 2002 draft. He made the decision to return and get his degree and that is VERY refreshing for a player of his ability. Below is some info on Jashon, followed by our interview.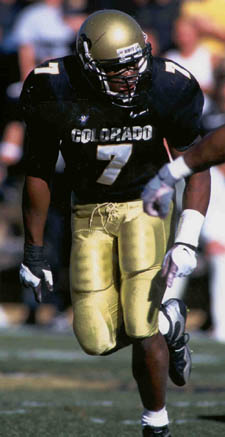 Name: Jashon Sykes

School: Colorado

Position: LB

Height: 6'3"

Weight: 233

40 Time: 4.49

Draft Status: Projected as the top LB prospect for 2002. Has ability to become a top 10 selection.

My View: Jashon is one of those "special" players that come along every once in a while at his position. He's a very physical, quick, intelligent LB. He possesses great natural instincts and he makes plays. A very respectful, personable young man who I thoroughly enjoyed speaking with. A very bright future ahead of him.


INTERVIEW:

Q: When you get drafted in 2002, What kind of person will an NFL team be getting?

J.S.: A very dedicated, hardworking person who has a deep love for the game. I'm very caring to the people around me and I'm a solid citizen.

Q: What are your plans after your football career is over?

J.S.: I want to be in football. I'd realy like to coach at the J.C. level and help those guys get to D-1 schools. I wouldn't want to coach major college football because it will take up too much time and the high school kids play to much. I think the Junior College level would be a perfect fit for me.

Q: Can you describe what your role is as the "hawk" linebacker?

J.S.: Basically, I'm the guy who flies around the field and makes plays. I'm asked to cover sideline to sideline for 60 minutes.

Q: What are your three playing strengths?

J.S.: My three playing strengths are:
1. I have good instincts.
2. I'm very quick.
3. I'm an emotional player and a good leader.

Q: Are there any weaknesses in your game that you'd like to improve on?

J.S.: I think I need work on my ability to dominate the O-Linemen. I want to be able to shed them off and make the plays at a more consistent level.

Q: What's the biggest misconception people have about you?

J.S.: They think I'm selfish. Ater a big play, I like to let everyone know who made it. I just play the game with plenty emotion, so it's natural for me to do that. I guess in a way that's selfish, but that's my game.

Q: Was it a hard decision to return to Colorado for your Senior year? What was the determening factor?

J.S.: It was real hard. If I would have weighed the pros and cons, I would have went pro, but I wanted to get my degree. I know how much a degree means today and I wanted to have that to fall back on. It would have been hard for me to leave early and play pro ball and then try and get my degree. I'd rather get it now and still have pro ball ahead with no worries about my future.

Q: What do you like to do when you're off the field?

J.S.: I like watching sports. Football and basketball mainly, but if it's not sports, it's school.

Q: What are your goals for the 2001 season?

J.S.: I want to beat Nebraska and go to a bowl game in January, hopefully a BCS bowl. Personally, I'd like to receive some post season awards. That would be great if I can do all of it.

Q: With all the attention you'll be receiving next season, how do you plan on remaining focused?

J.S.: I think all that will make me become a better man. I mean, I want to live up to the hype, but I don't feel pressure from it at all. I just hope to come away a better man and that's what will keep me focused.

Q: Who has been the biggest influence on your life?

J.S.: It's been my mom. She's a single parent raising two sons. She's been our biggest fan on and off the field. She works hard to provide for her family and it makes me proud.

Q: Do you put too much pressure on yourself to perform every Saturday?

J.S.: Not really. When I leave the field I always feel that I gave it my all.

Q: Do individual accolades mean anything to you?

J.S.: Yes they do. They keep me hungry. If I get the accolades, it usually means the team is winning. I love to win. I really want to go out this year and win the Butkus, be an All-American and become a first round pick.

Q: What is your greatest football moment?

J.S. When is was 14, I was playing Pop Warner and I hit this kid so hard he had amnesia. It was a blind side hit, he didn't even see me coming. I felt kind of bad after, but it really felt good to get a clean lick on somebody like that.

M.G.: Jashon, it's been a pleasure my friend. I look forward to us talking again when spring ball starts. Take care.

J.S.: Thanks Matt. I look forward to it too.