Recently I was able to conduct an interview with Tony Stewart, TE, Penn State. Tony set a Penn State record in receptions by a TE in 2000 with 38. He's a big, physical TE, with soft hands and he's an excellent blocker at the point of attack, as well as downfield. He's currently rated on most draft boards in the top 6 at his position and with a good showing in Indy, he could elevate his draft status tremendously. Below is some info on Tony, followed by our interview.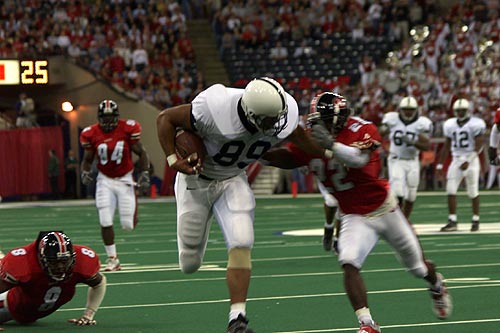 Name: Tony Stewart

School: Penn State

Position: TE

Height: 6'5"

Weight: 258

40 Time: 4.80(has never been professionally timed)

Draft Status: 4th-5th round projection, but can elevate status with strong workouts.

My View: Tony is a very intelligent, well-mannered young man with a solid NFL future ahead. If he can stay healthy, he can turn into a Pro Bowl type player. As stated above, he's a very good blocker and has soft hands. Holds good value in the 4th round area.


INTERVIEW:

Q: What kind of person will an NFL team be getting when they draft you?

T.S.: They'll get a team player. I'm a guy who does whatever is best to help the team win. I'm also someone who like to be involved in the community and I'm a guy with high character and morals.

Q: What have you heard about your draft status?

T.S.: I have heard so much man. I've heard I can go as high as the 2nd round and as low as the 5th round. I guess it depends on who you talk to.

Q: What are your plans after your NFL career is over?

T.S.: I'm majoring in recreation park management so I'd like to go into being an event planner at a sports arena. Maybe even be the arena manager.

Q: What are your three playing strengths?

T.S.: I'd have to say my football intelligence, my game speed, and my route running. I feel I do all of those really well.

Q: And weaknesses in your game that you'd like to improve on?

T.S.: I need to work on my upper body strength. I'd like to be more physical in my blocking and I feel a stronger upper body will enable me to do that.

Q: How are you preparing yourself mentally and physically for the NFL?

T.S.: Physically, I'm getting aquainted with drills I'll be doing at the combine. I'm trying to make sure that when I leave Indy, I have teams talking about me. Mentally, I'm trying to stay focused and keep my attitude positive. I'll get a better feeling on things once I get into the NFL.

Q: What are your goals for the combine?

T.S.: I just want to be consistent in all areas. I don't want to be good at one thing and then stink at another. I'm looking to be solid in every aspect of my game and I feel I can do well.

Q: What are your goals for your rookie season?

T.S.: I want to come in and be able to participate and contribute from day one. That's every rookie's goal though. I'll do anything to get out on the field and have an impact. I also want to promote a positive image for myself and my team and the city I represent.

Q: How do you feel you rank with the TE's rated ahead of you, namely, Heap, Crumpler, Holloway, and Love?

T.S.: From what I've seen of them, I think I'm the most complete and consistent TE available. I'll show everyone at the combine that I should be mentioned with those guys and I'll open some eyes.

Q: What do you like to do when you're not on the football field?

T.S.: I just like to hang with friends, meet knew people and shoot the breeze. I'm just the type of guy who enjoys good company. I can get along with just about anybody.

M.G.: Thanks for your time Tony and Good Luck in the future!

T.S.: Thanks Matt!