Recently I was able to conduct an interview with Shane Pearson, the 3 time All-American ILB from Georgetown College in Kentucky. Pearson, who has also been a 4 year starter and a 4 time All-Conference selection is looking to become one of the few NAIA players to make it to the NFL. This past year he was named to the AFCA All-American team(D-II, D-III, NAIA) and has been getting a number of looks by NFL clubs. At 6'2", 240 and running a 4.77/40, Shane has positioned himself to get an opportunity at the next level. Below is some info on Shane, followed by our interview.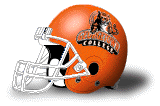 Name: Shane Pearson

School: Georgetown College-Kentucky(NAIA)

Position: ILB

Height: 6'2"

Weight: 240

40 Time: 4.77

Draft Status: High Priority FA player. With good Pro Day workout, he could elevate into the 7th round.

My View: Shane is a very productive, confident player who totally DOMINATED at the NAIA level. He's a very intelligent LB, with solid instincts and he's always around the ball. A determined kid who will do anything and everything to make it in the NFL. He knows how to win and he possesses good leadership qualities. Could be a steal for whatever team signs him.

INTERVIEW:


Q: What kind of person will an NFL team be getting by drafting/signing you?

S.P.: I'm a hard working player who plays football because I love it, not for the money that's involved. I'm a very coachable player who is always looking to get better so that I can one day become the best at my position.

Q: What have you heard about your draft status?

S.P.: I've heard anywhere from being a #6 or #7 pick, to being an undrafted free agent.

Q: What are your plans after your playing career is over?

S.P.: I have two plans that I'm looking into now. One, working in sales for Cintas. I'm currently working with them now and I'm doing really well. The other is becoming a Sports Broadcaster with ESPN doing football games. I've always wanted to do that.

Q: What are your three playing strengths?

S.P.: I'd have to say my strengths are my football intelligence, my overall savvy, and my willingness to learn and watch film. I prepare better than anyone for my opponents.

Q: Any weaknesses in your game that you'd like to improve on?

S.P.: I need to work on my pass coverage skills. In college, I controlled the 'box.' I know in the NFL, there are so many different schemes. I know I have the ability to cover, but I wasn't asked to it enough to where I feel like it's a strength of mine.

Q: Are you mentally and physically prepared for the NFL?

S.P.: I think so. Physically, I feel I'm ready. I know I played NAIA, but I completely DOMINATED. As far as measurables, I feel I stack up well against anyone at my position. I'm a very physical player. Mentally, I feel I'm very strong. I have a good head on my shoulders and I know how to handle myself on and off the field. I've been preparing 15 years for this opportunity and I'm ready to prove my worth.

Q: Do you feel you've been looked over because you play NAIA?

S.P.: Not really. I feel that if you're good enough to play in the NFL, someone will find you. NFL scouts know who I am. They've been here to see me play a few times. In fact, plenty NFL teams have requested film on me. I think that says that they have some interest in learning more about me.

Q: What do you do when you're not playing football?

S.P.: Man, I just watch Sportscenter. I'm a sports guy. Anything and everything that has to d with sports, I get into it. I also like to read and watch regular TV. My weekends are finally free now, so I get to do a little traveling. It's nice.

Q: Is there a particular NFL team you'd like to play for?

S.P.: At this point, I just want to play football. I want to be part of an NFL team where I can compete for a starting job.

M.G.: Shane, it was a pleasure. Thanks for your time.

S.P.: Thanks for the opportunity Matt!