Recently I was able to interview Reggie Waddell, the CB from Western Illinois. Reggie, in his first year of 1-AA football, led the Gateway Conference in pass breakups and was named 2nd team All-Gateway. He was also named to the 1st team All-Newcomer team and has gained praise for his consistent and steady play all year. Standing at 5'10", 179, Waddell lacks the ideal size of the NFL CB, but his natural cover skills and playmaking ability has opened some eyes. Below is some info on Reggie, followed by our interview.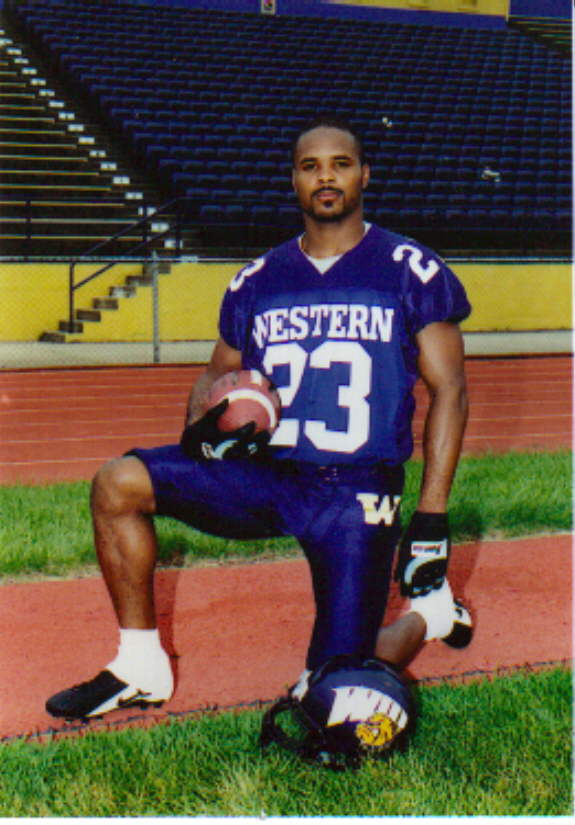 Name: Reggie Waddell

School: Western Illinois

Position: CB

Height: 5'10"

Weight: 179

40 Time: 4.47

Draft Status: Undrafted Free Agent

My View: Reggie will more than likely go undrafted, but he will be in an NFL camp where he'll impress with his natural cover skills and ability to make plays consistently. He's got the upside teams like in a CB and if utilized in the right scheme, he could produce as a nickel back, maybe be a starter down the road.


INTERVIEW:

Q: What kind of person will an NFL team be getting when they sign you?

R.W.: On the field they'll be getting a pure cover corner who's good in supporting the run. I believe in my abilities to make plays and I'm confident that I'm a solid all-around CB. Off the field, I'm just a normal guy. I'm a good man, I don't do much partying. I just stay to myself and surround myself with my closest friends.

Q: What have you heard on your draft status?

R.W.: I've heard I'm an undrafted free agent, but I know that it's not how you get there, it's what you do when you get there that really matters.

Q: What are your plans after your football career is over?

R.W.: I want to coach high school kids. I've always been good with working with the young people and it's something I see myself doing in the future. When I was in JUCO, I coached a basketball camp. I just enjoy kids period.

Q: What are your three playing strengths?

R.W.: My three strengths are my ability to cover man/man, my ability to support the run, and my ability to be a finnesse corner or an aggressive corner.

Q: What about weaknesses in your game?

R.W.: I think there's always room for me to grow as a player, but if I had to choose one thing that I need to improve on, it would be my strength.

Q: Are you mentally ready for the NFL?

R.W.: Yes I am. I feel that whenever I'm matched up with a WR, I know what his next move will be. It's like I can read their minds or something. I'm always staying ahead of what's happening on the field. You have to be mentally tough to play CB. You're out on an island all game long. I'm prepared for it though.

Q: What about physically?

R.W.: Oh yeah!!! Without a doubt. For a guy my size(5'10", 179), I'm not scared of anything on the football field. I'll take on ANYONE at ANY TIME. I've never missed a football game in my life. I'm very durable and I pack a punch when I hit you. I can take the pounding of the NFL.

Q: Will you let the fame and fortune of the NFL get to your head?

R.W.: No indeed not. I know that you can be here today and gone tomorrow. The average career is like two and half years long. I'm prepared for whatever hand I'm dealt.

Q: Do you feel you've been overlooked by scouts?

R.W.: Yes I do. I only had this one year at Western Illinois and two years at JUCO(Dodge City). I have plenty of football in me. I can grow tremendously as a corner. In just my one year at WIU, I made All-Conference and was named first team Newcomer. I have the skills, I just need the chance.

Q: How do you feel you compare with other corners in the draft like Fletcher, Smoot, Peterson, etc.?

R.W.: I feel I stack up well with all those guys. The difference is that Smoot, Fletcher and the others got the national exposure that comes with playing major college football. Will and I quietly made noise all year in our conference in every aspect. When I watch those guys(Smoot, Fletcher), I can see that they all lack something. I feel I'm a solid all-around corner.

Q: Do you think you can make an impact in your rookie season?

R.W.: I think so. Just put me on the field and I'll make something happen. I'll be a good nickel or dime back. That's not a problem. Throw me out there on special teams too. I just want to play football.

M.G.: Thanks for your time Reggie and Good Luck!

R.W.: Thanks for talking with me Matt!