Recently I was able to conduct an interview with Northern Iowa's standout WR, Eddie Berlin. Just last month, Eddie was one of the most impressive receivers at the combine. Standing at 5'11, 191, Berlin shook things up in Indy, running a 4.44/40. Eddie has been a consistent player since he set foot on the UNI campus. He's a 4 time All-Gateway selection and an All-American selection in 2000. Below is some info on Eddie, followed by our interview.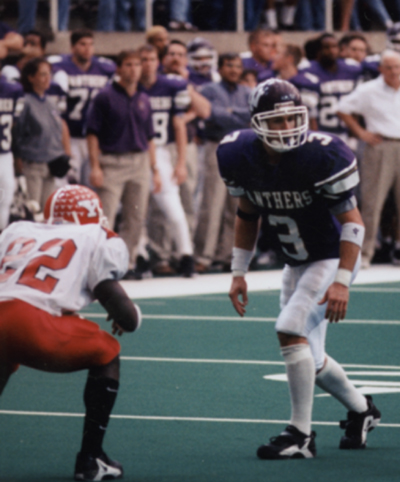 Name: Eddie Berlin

School: Northern Iowa

Position: WR

Height: 5'11"

Weight: 191

40 Time: 4.44

Draft Status: 5th-6th round projection

My View: Eddie and I had a very good conversation. He's a real easy going, fun, intelligent and talented guy. He possesses a good blend of size and speed and he's got a knack for finding the endzone(34 career TD's). He could go as high as the 4th round, but more than likely a 5th-6th rounder. Should be able to contribute immediately as a 3rd or 4th WR and on special teams.


INTERVIEW:

Q: What kind of person will an NFL team be getting when they draft you?

E.B.: They'll get a consistent, hard working player, who's physically and mentally mature for the NFL game. I feel I'm well prepared to become an immediate contributor to any NFL team who selects me.

Q: What have you heard about your draft status?

E.B.: I haven't really heard too much, but I'm guessing somwhere in the later rounds. The 6th or 7th is what I'm guessing.

Q: What are your plans after you football career is over?

E.B.: I want to come back to UNI and coach football. Maybe be a receivers coach, but coaching is definately in my future.

Q: What are your three playing strengths?

E.B.: My three strengths are my versatility, my speed, and my body control.

Q: Do you have any weaknesses that you want to improve on?

E.B.: I'd like to improve my overall game, but mainly I want to be sharper in and out of my cuts.

Q: Do you feel you're mentally ready for the NFL?

E.B.: I think so. I've been lucky enough to speak to guys who are there(Dedric Ward, Brad Meester) and they've shared stories with me about their experiences. I just took everything they said and kept in my head so I know what's about to happen.

Q: What about physically prepared?

E.B.: No question about it. If you look at my performance across the board, you can see that I'm ready physically. I have the speed, strength, and athletecism that is needed to be an NFL WR.

Q: Do you feel you've been overlooked by scouts?

E.B.: Yes, I think I have. I've been labeled as a possession receiver throughout my career. Look at my numbers. I caught 34 TD's, run a 4.4/40, and I high jump 7 feet. Playing in 1-AA, I've always needed to step my game up so people would take notice, so I'm ready to prove people wrong.

Q: How are you staying focused throughout this entire process?

E.B.: I know what's at stake here. Whenever I get a team in here to look at me, I know that if I slip up, that could be it. That alone motivates me to do extremely well. I'm just looking to improve constantly on my workouts.

Q: What was the combine like for you?

E.B.: It was a really good experience. I wish I had played in a Bowl game prior to the combine though so people would have known who I was. The combine gave me some much needed exposure and it was cool seeing guys like Vick and the rest that I see on T.V. all year. The best thing about the combine was that I got to talk to the scouts and coaches, but it was the longest week of my life. I couldn't wait to get home.

Q: What teams have shown the most interest in you?

E.B.: The Rams, Bears, Lions, Packers, Cowboys, and Chiefs.

Q: Do you think you can be an impact player in your rookie season?

E.B.: I know I can help a team win, that's for sure. I want to go somewhere and be able to contribute as a 3rd or 4th receiver. I'll play special teams. I'll return kicks, be a gunner, a punt returner, I don't care. I just want to play ball.

Q: Is there a certain team you'd like to play for?

E.B.: Not really. Some place warm would be nice. Maybe in the midwest so I can be close to my family or down south where the weather is nice.

M.G.: Thanks for your time Eddie!!! Good Luck in the NFL! I'll be in touch.

E.B.: Thanks Matt!!! I'll talk to you soon.